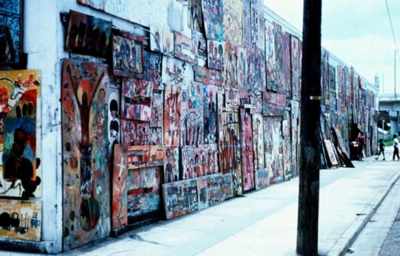 Purvis Young: "Me and My People"

Purvis Young started to draw in the late sixties: war scenes with soldiers in fatigues, tanks and fighter planes, unemployed men in line for food, copulating bodies in countless positions. In another mood, he painted colorful trucks climbing winding roads and mountains. He also drew portraits of himself and others, at times in the company of fairies and angels. Eventually, drawings on small scraps of paper were followed by works on larger pieces of masonite, plywood and cardboard. The scenes became more complex, and with a wider range of materials, more colorful and hypnotic.

Young was born in 1943 in Miami's Liberty City. He grew up on its streets, a witness to their violent ways and gutter workings. Roaming black neighborhoods since childhood, Young encountered an abundance of images that would later surface in his artworks. He became an artist of the street without any formal training, making an art generated from obsession and desperation. Like hundreds of others in his neighborhood, he stands on the edge of opportunity, hoping, waiting for his turn in the world.

His first major work was a self-initiated effort. Beginning in 1973 Young attached hundreds of painted panels to a wall of dilapidated buildings on a street of Overtown, a few blocks north of downtown Miami. The wall, "Goodbread Alley" developed over a period of two years, veiling, with an atmosphere of a circus, the harsher reality of the ghetto surrounding it.

In "Goodbread Alley" individual scenes with numerous subjects were joined by panels of small figures marching in all directions. Brightly colored scenes gave a flickering quality to the wall from a distance; and up-close, the color stains became faces, figures, and landscapes. The wall provided Purvis with tremendous visibility to the thousands of people in cars that passed by daily prior to the completion of I-395. The media began to take notice.

In drawings, paintings, and books, Young points to the consequences of racism, to the plight of the under-priviledged, to years of neglegt, to the private manifestations of outrage. His dirty, smudgy drawings and paintings, dripping with glue and bits of lint, aged in the humid subtropics, raise a voice of protest: groups of unemployed people lift arms that demand jobs; men and women carry loads; hands attempt to free themselves from chains; ghetto streets teem with the heat of summer and passion; refugees struggle in boats lost at sea. Some of these works are accompanied by scribbles in Young's own grammar, amplifying content and, at times, alluding to hidden meanings. He isolates a poetry of poverty, the life of the street, the cosmos of despair.

In 1973 Purvis met Bernard Davis, founder of the former Museum of Modern Art in Miami. The first time that Davis drove by and saw "Goodbread Alley" he stopped to talk to Purvis. He invited Young to visit the museum in a house by Biscayne Bay. Within two years Purvis had a show there which served as his introduction to the fledgling Miami Art World. Through purchases from various galleries and the artist directly, numerous collectors in Miami and around the United States came to own his work.

For many years Purvis has walked to one of his "comfortable" spots in Overtown to sit and draw. Visitors and passers-by stop to chat and observe the artist at work. As he draws his thin meandering lines, the figures emerge rhythmically, almost automatically. Purvis notes his "mean, stiff. . . shafting" lines that become at times violent. He takes some glue and pastes a piece of paper. Now with brush in hand he sketches a crying face, hovering over the city. He says, "today is a sad day." He rips and glues another two ribbons of paper and looks silently at the piece of cardboard in front of him. Gaining momentum, he sketches a series of buildings and people at street level: "here's a Haitian woman with her son; here's a bum..."

The characters in his work are the people of his universe: Silo, a leamed and wise Santeria priest, his mentor and guardian; Sam, the food shop owner who often gives food away to friends who can't pay; Red, the laundry worker he's known for more than 20 years. Others have identities as characters in familiar roles: soldiers, rioters, protesters, a bum "carrying his life", a "Cuban lady with a skinny baby," the Jazzman playing his music. The Whore, as sexual partner to one or many, appears blood red in the heat of passion. "Almighty God" emerges with a court of angels and by Himself, hovering over the landscape. Planets and stars fill vast skies.

Young lives in the shadows of the skyscrapers of business and government; he looks at the sun-bleached asphalt, into the faces of people. He talks to the men on the streets of his neighborhood; he stands with others in the corner silently observing police action: arrests, busts, chases. "Violence, bad violence ... killing too, remember McDuffie?" He also sees the successful visitors pass through in their big cars. Life in Overtown and more can be found in Young's works and books.

An image of a giant pregnant woman served by multiple figures surfaces in varied contexts. Alone, deep brown against a golden sky, she is majestic; in the city, standing among the ragged buildings, she becomes a welfare mother. Elsewhere she appears in the company of eager men. At times she is accompanied by a giant male, Priapus of the ghetto, both towering over the city. Always nude, this mother figure, the pregnata, embodies an animal force, an archetypal compounding of Big Mama and the proverbial Mother Bee.

The best of Young's work combines universality and locality into a powerful glimpse of American culture. Young's themes are broad: war and male aggression, institutional neglect, class struggle, the pleasure of the senses, travels of the imagination. He shares the impulses that drove other notable self-taught artists: James Hampton, creator of the "Throne of the Third Heaven of the Nations Millenium General Assembly," Howard Finster and Simon Rodia, who built his private paradise in the Los Angeles Watts neighborhood.

Some Haitian primitives also come to mind in the light of Young's work. Prefete Duffaut with his highways in the sky and his floating islands, the Obin clan in the sheer sincerity of their portrayal of everyday scenes, and Hector Hyppolite in the brutal energy of his emerging "raw" images.

Young gathers the materials for his work in the streets of his Miami neighborhood. From construction areas he gleans pieces of plywood, nails, glass, bits of wood, some plaster. He finds large cans, rusty metal trays, record albums and other flat objects on which he'll paint. In the last year he has been sifting through back lots of printing shops to find large plastic sheets and odd scraps. He rarely buys art materials as friends keep him supplied with pencils, crayons and paint.

At some point in the mid-seventies, Young began to store drawings inside books. The books, serving as impromptu portfolios, would keep the drawings neat and flat. Eventually he came to like the way the books grew fat and decided to glue his drawings to the pages. He had discovered an artistic format that suited his free-flow way of thinking that in his own words, "let my imagination fly ...." The viewer's imagination is taken with Young by flipping the pages and seeing his cycle of images from the last 20 years unfold.

As an extension of his involvement with books, Young began talking in the early 1980's about "painting some walls." In a way he wanted to make a mark on his world, pemanently imbedding his impressions on the landscape that engendered them.

As a special project for the downtown Miami-Dade Public Library, Young was invited in 1983 to paint the interior of the building's auditorium. The resulting work,"Visions of the Street" was an epic panorama of Miami's black history, including scenes of riots and burning buildings.

In 1984 he was commissioned to paint the outside of the Culmer/Overtown Branch Library. He asked that the entire building be painted yellow, and with a few gallons of commercial wall paint and new brushes, spent a month executing his work.

In front of an exploding city, and all around the library, football players pass their painted ball; next to them sky horses gather in an enigmatic moment. The buildings spread in all directions, pulsating to the rhythm of the bouncing ball.

Young faced a tremendous pictorial challenge by the shift in scale from the page to the wall. His brushwork now had to be broader, more physical. The composition had to be simpler, with bold components readable from the street. The resulting mural is a triumph of adaptation for an artist who had worked on an intimate scale for so many years.

In 1986 he was commissioned by the Metro-Dade Art in Public Places program to create a work for one of the new Metrorail stations at Northside. He decided to paint a mural that would celebrate the workers that built the rapid transit system, their equipment and tools. He had made numerous drawings during the construction of the elevated tracks and stations which served as a rich source for his mural imagery.

Concrete workers hover by the mixer trucks wearing construction hardhats. Trucks and ladders are backed up to the train guideway among the crowd of workers. The intensity of the building activity is heightened by Young's use of color. Juxtaposed to the workers' struggle, the Metrorail crossing over the Miami River includes sailboats and reflections on the water.

Like many artists of his generation, Young uses his work as a platform for expressing his views and feelings on numerous causes. Some observers insist that he is aware of his role as the neighborhood griot, as the unofficial historian of the daily life of Overtown. Indeed, his notebooks, stories, and artworks embody a detailed record of that community's life. In a book he once wrote,"Like Rembrandt, I'm walking with the people." And yet Young's fertile imagination roves beyond the neighborhood to channel other forces.

Purvis dreams about going to places he's never been. He would like to see the mountains of North Carolina he's heard about since childhood. He remembers beautiful animals he's seen on TV, wild dogs, jungle cats, exotic birds, and he imagines others—minks, swans, and horses with wings. He talks about "hitting the road" in a van, maybe a train, traveling the streets of other cities in the United States.

"The street is life," Purvis Young wrote in one of his painted books. In conversation he explains, "you go around and find a bunch of paper a man has thrown away; it's good paper, you take it ... you pay nothing to the man ... the paper was there for you." He adds, "the street is real life ... you come out here and feel the workings of the world ... that's all you need to be an artist..."

Cesar Trasobares, October, 1988
Cesar Trasobares is the Executive Director of Metro-Dade Art in Public Places

>>ELECTROLIBRARY<<